The elements of art are a set of techniques that describe ways of presenting artwork. They are combined with the principles of art in the production of art.

The elements of art include: shape, form, line, point, color, value, texture, and space.

Shape
Shapes are not to be confused with forms. Forms are three-dimensional.
Shapes are two-dimensional representation of objects. Shapes have height and length only.

Here are some examples of shapes: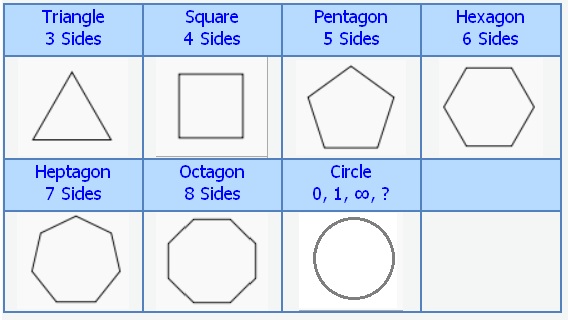 Form

Form is the three-dimensional counterpart to shape. There are two types of form: Illusionary form is created through the use of concepts such as perspective in order to show form on a two-dimensional work. Real form is the form seen in sculpture and other three-dimensional art.
Here are some examples of forms: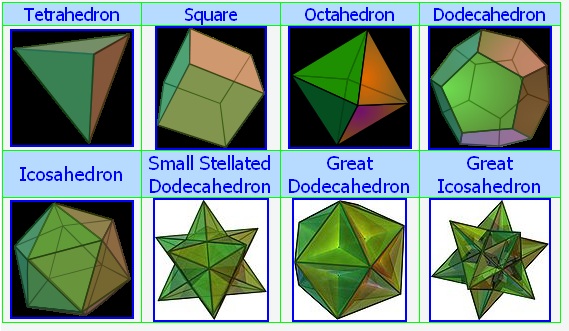 Line
In geometry a line has no thickness. If a line had thickness, it would be a rectangle. No such lines exist in nature because they cannot be perceived. This is not what we mean by a line in art. In art there are many types of lines:
Actual line: In art a line is drawn by pen, pencil, or other implement. It has thickness, length, and is a continuous mark. It may be straight, curved, or dashed.


Contour line: an outline, or internal line, that defines the shape or form of an object.


Implied or Psychic line: This is not an actual physical line; it's suggested or psychological. When pointing at something, the eye travels from the hand to the object as if on a line. This is an example of an implied line.


How many different lines do you see?
Collaborate: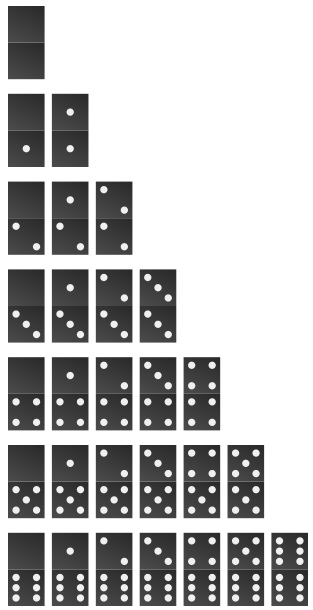 Point

A point is a pixel of color - not to be confused with the point in geometry. In geometry a point has location - but no extension. Since this notion of a point cannot be perceived, it has nothing to do with art.


Color
Light and Color
Synesthesia is a neurological condition. The stimulation of one sensory pathway or cognitive pathway leads to an involuntary experience in a second sensory or cognitive pathway. People who have synesthesia are called synesthetes. They might see sounds, letters, and numbers as having specific colors.

S Y N E S T H E S I A
0 1 2 3 4 5 6 7 8 9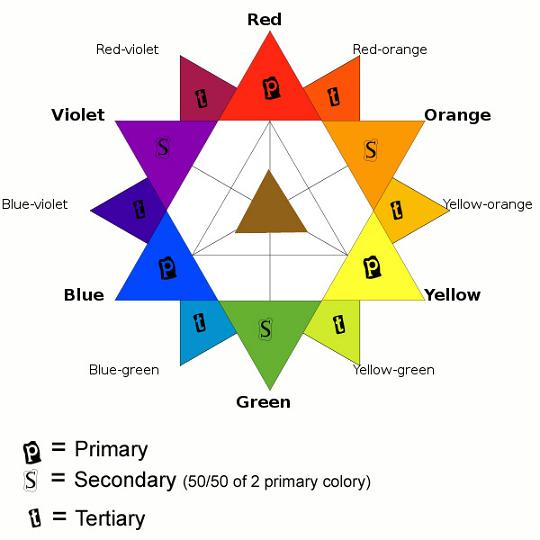 Complementary colors are opposite on the color star.
Complementary colors mixed 50/50 make gray.
Adding white to a color is a tint.
Adding black to a color is a shade.
Primary Colors
The primary colors are red, yellow and blue. These colors are used to create secondary and tertiary (intermediate) colors.

Secondary Colors
Secondary colors are made by mixing two primary colors together - 50/50. The secondary colors are:
Orange - made by mixing red and yellow

Green - made by mixing blue and yellow

Violet - made by mixing blue and red

Intermediate or Tertiary Colors
Tertiary colors are made by mixing a secondary and a primary color together. Some examples are blue-green and red-violet.

Warm, Cool, and Neutral Colors
Warm colors are the different shades of red, yellow, and orange. They convey the feeling of warmth.
Cool colors are shades of blue, green, and violet. They convey feelings of coolness and quiet.
Neutral colors are also called earth tones. They're the colors of black, white, gray, brown, beige, and tan. These colors can be made by either mixing the complimentary colors, all of the primaries, or mixing black and white.

Complementary Colors
Complementary colors are on the opposite sides of the color wheel. They contrast each other, and make each other appear brighter - adding energy to an artwork. The complementary colors are:
Red and Green

Yellow and Violet

Blue and Orange